In addition to our casual social hang outs, we run loads of big events throughout the year, lots of them Harry Potter related or themed. Find out more about the kinds of things we do and our programme for the year here.
Of course we run Harry Potter trivia - one night every semester (sometimes two), it's one of our largest events of the year with 150 people and usually around 20 teams. The trivia is challenging, and the challenges are not trivial - ranging from book knowledge to expanded universe, reenactments to original origami creations, this is HP trivia like you've never experienced it before. Prizes for best dressed of course.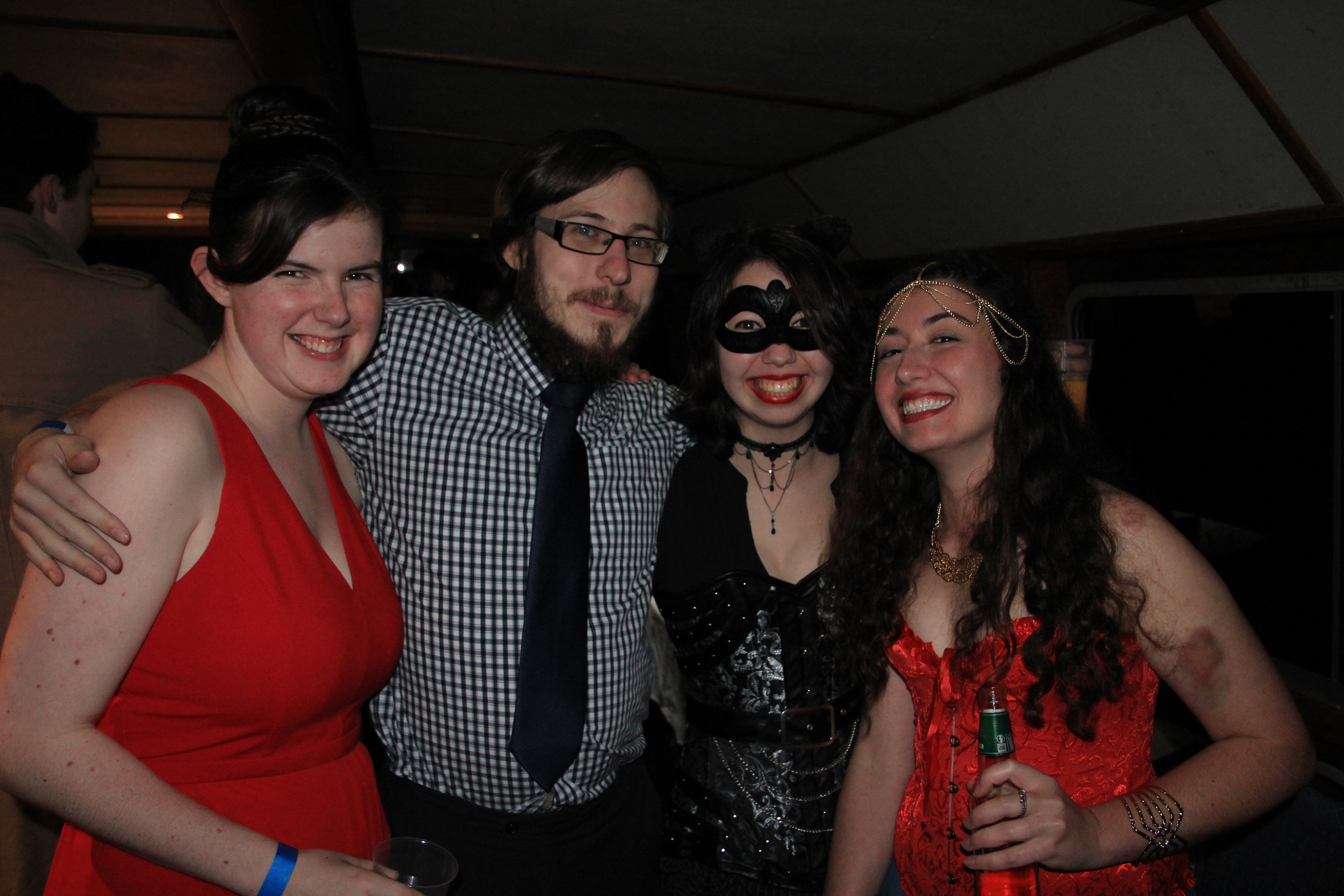 Another of our favourite annual events is our Horcrux Hunt. This involves a wild scavenger style hunt following clues all over campus and Newtown, as teams race and earn points by finding hidden objects and completing challenges. This year we are going all out with an extraordinarily detailed and elaborate HP themed treasure hunt in week 5, designed by Scott Masters. Don't miss out on it!
What better way can you think of spending the Labour Day Long Weekend other than three days straight of quidditch? On the Saturday and Sunday we run QuidCamp, a full weekend of training, camping, team bonding, casual hanging out, and lots of bolognese. The Monday public holiday features Internal Fantasy - a single day fun tournament for all USyd players - past and present, to join in mixed teams and play some games.

 
At the other end of the spectrum for our end of year celebrations is Quovemas - our casual, classic Aussie park & pub Christmas party and potluck.
Our Week 2 "Hogsmeade Visit" (Newtown Pubcrawl) is a staple event of any semester. Join us for a relaxed and fun night out, full of games, competitions, and challenges to spice things up and get to know everyone.
(and if you don't drink, don't worry - you'll be in good company, and it's possibly more hilarious :) )
In 2016, Nerd Crusie won the USU's best joint event award. This year, we're bringing it back in the form of Quidditch Cruise! More details coming soon, but get excited for a fun night out with other quidkids from around the state!
For all your Harry Potter themed baked goods needs, we run a bake sale every semester! Get your oven going if you love baking, or just prepare your tastebuds for cauldon cakes, parchment cinnamon scrolls, snitch cupcakes, chocolate frogs, and all kinds of sugary deliciousness to help you deal with the stress of the later weeks in semester.
QuidCamp
&
Internal Fantasy
Awards Evening is our end of year formal celebration. By tradition, dress code is "Fancy AF", and it is here where we present the MVPs, Best and Fairest, Most Improved, and Best New Player Awards, among various other nonsense ones, before partying the night away.